FEBRUARY 1, 2008
Surgical Analysis
By Mark Jenkins
4 Months, 3 Weeks, and 2 Days
Directed by Cristian Mungiu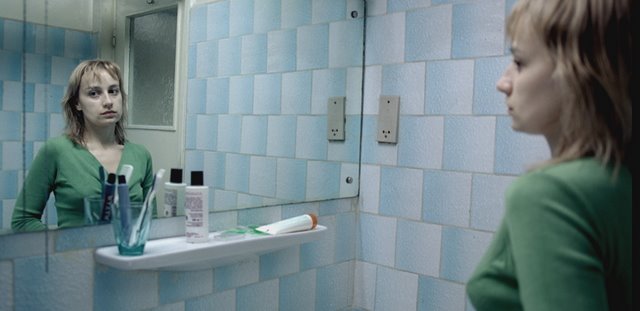 Real Bad Time: All Alone in Big Brother Land
(IFC)
SHOT MORE OR LESS IN REAL TIME, and adhering largely to a single character, 4 Months, 3 Weeks, and 2 Days doesn't pretend to be the great film about Romania under Ceausescu. Yet it is anyway, because writer-director Cristian Mungiu is so alert to the details of life in a doomed dictatorship. This stark yet vivid movie is set in 1987, two years before Ceausescu's fall. The ruler's impending fate doesn't affect Gabita (Laura Vasiliu), who's seeking an abortion, or her roommate Otilia (Anamaria Marinca), who takes responsibility for arranging the illegal procedure. If they weren't so preoccupied, however, the two college students would notice the system fraying all around them.
Gabita is the one who's waited almost too long -- as the film's title enumerates -- to make a date with clandestine abortionist ironically called "Mr. Bebe" (Vlad Ivanov). It's Otilia, however, who's the story's agent. She handles the money, travels about the city, and dispels complications. Much of the time, she's in the dark, and her solitary peregrinations leave her achingly vulnerable. Yet the film's intensifying sense of menace doesn't lead to anything so simple as a bogeyman jumping out of the shadows. Instead, it illustrates the stifled horror of living forever with an event one of the women insists "we're never going to talk about."
To a large extent, 4 Months is a tale of power relationships. Ceausescu may rule Romania, but his subjects zealously guard their shabby little fiefdoms and tiny rations of authority. While IDs and tickets are officiously checked, everyone seems to be working some black-market gig on the side. Gabita and Otilia check into a hotel for the abortion, and find the desk clerks to be petty tyrants. Mr. Bebe, who plies one of the Romanian government's most despised trades, nonetheless has temporary control over Gabita and Otilia -- and uses it. In a less brazen instance of petty dominance, Otilia takes a break from the ordeal to attend her upscale boyfriend's mother's birthday party; ignored by the other guests, she sits uncomfortably at the center of the scene, as trapped as Gabita, who's back at the hotel waiting for the operation to have its ultimate result.
The writer-director never supplies the dialogue in which Otilia expresses her discomfort at the party, and doesn't need to. There's a lot of never-going-to-talk-about in 4 Months, and much is suggested rather than shown. Yet the film's emotions are lucid and powerful. Mungiu and his cinematographer, Oleg Mutu, convey their main character's feelings by staying close to the quietly expressive Marinca, observing her carefully, and forgoing such distractions as music. Rather than keening violins, the film's score is the ambient soundscape of Bucharest at night, every bark and crash hinting at Otilia's apprehension.
Mungiu's second feature, 4 Months echoes the near-naturalism of other recent Romanian films, notably The Death of Mr. Lazarescu (also shot by Mutu). Both movies are essentially about a single process, feature a compressed timeline, and use long handheld takes to stress the tight conceptual focus. Mungiu isn't simply aping cinema-verite documentary. He deftly underlines the film's themes with small, seemingly offhand touches: In the opening sequence, some newborn kittens contrast Gabita's plan for her unborn child; in the final one, Otilia turns away from a meal that reminds her of the evening's shocks. 4 Months isn't an obsessively formalist exercise, but every moment is fully considered and intensely engaged.
It seems that no one can review Mungiu's film with mentioning its spiritual antithesis, Juno, the unwed-mother comedy that wisecracks its way into irrelevance. In tone and craft, however, 4 Months is closer to Benoit Jacquot's A Single Girl (whose pregnant protagonist keeps the baby, dumps the boyfriend) or Tony Richardson's A Taste of Honey, the kitchen-sink drama that inspired Morrissey to sing, "the dream is gone/But the baby is real." Bleak as early-'60s British cinema was, Richardson's movie has nothing on 4 Months, 3 Weeks, and 2 Days, in which the baby ends up gone, and there never was any dream. There's only the rotting state and its corrupting influence, which Mungiu depicts as brilliantly as any Eastern European filmmaker ever has.