APRIL 11, 2008
Street Smart (or Not)
Reviewed: Chop Shop, My Brother Is an Only Child,
Street Kings
By Mark Jenkins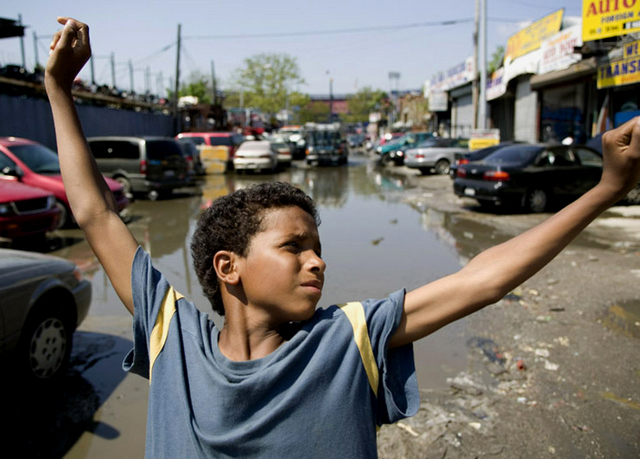 The Other World: Polanco in Chop Shop. (Noruz Films)
PERHAPS THE MOST DISPIRITING OPENING in recent American movies is that sweeping aerial shot across New York harbor, past the Statue of Liberty, and into Manhattan's skyscraper canyons. This oft-recycled sequence guarantees 90 minutes or more in the presence of tiresomely upscale New Yorkers who have problems derived, in various proportions, from Woody Allen flicks and TV sit-coms. CHOP SHOP begins in another New York altogether: a city where jobs last for only one day, if that, and no one is on the waiting list for prestigious Upper East Side prep schools. But the film's setting is only the first of its welcome surprises.
Introduced hustling for day labor, parent-less preteen Alejandro (Alejandro Polanco) soon finds a place to live — and what a place it is. In the shadow of Shea Stadium, Willets Point's auto-repair row looks like the sort of industrial slum that might be found outside Lagos or Jakarta. (At night, some of the garages become illegal "chop shops," making quick work of stolen cars,) "Ale" settles in, learning to sand and paint auto bodies, and securing a ramshackle apartment over the shop. He summons his teenage sister, Isamar (Isamar Gonzales), and plans to buy a food van they can run together. She accepts the scheme, although without much apparent enthusiasm. And Ale's promise of future riches is not enough to keep her from turning tricks to pay for the clothes she wants today.
Underplayed by Polanco, who's not a professional actor, Ale is not entirely convincing. But his hustle feels real enough, as does his bleakly bustling demimonde. Born in the U.S. to an Iranian couple, director and co-writer Ramin Bahrani spent some time in his parents's homeland, and clearly knows its recent cinema. Subtract the prostitution subplot, and this film could sit comfortably next to such documentary-rooted Iranian tales of hard-luck boyhood as The Runner and Children of Heaven. Small-scaled as it is, Chop Shop doesn't simply evoke the lives of a few forsaken children, lost in America. It reveals an entire world that any upscale Manhattan-ite could see, if only he bothered to look. (2007, 84 min; at American Film Institute Silver Theater)
The protagonist of MY BROTHER IS AN ONLY CHILD makes a dramatic but entirely plausible transition: from teenage seminary student to fascist street thug. Daniele Luchetti's smart, brisk film is set in the 1960s, after all, and in Italy, a country that — at least according to its cinema — relishes societal mood swings. Accio (Elio Germano) isn't concerned that his older brother, factory worker and Communist organizer Manrico (Riccardo Scamarcio), scorns his priestly calling. It's sex, and the church's attitude toward it, that propels Accio from the seminary and back home to Latina, a shabby "new town" outside Rome that was conceived by Mussolini. Under the influence of a local street merchant, Acio joins the Fascists, an alliance that increases the two brothers' already simmering rivalry.
Co-written by Luchetti with Sandro Petraglia and Stefano Rulli, who already gave the period the mini-series treatment in the six-hour The Best of Youth, the film is less interested in psychological insight than in conjuring the energy (and absurdity) of the epoch. Short scenes, handheld camera, and jump cuts propel the story across a decade or so, as Luchetti stages only-in-the '60s moments that are alternately poignant or humorous. One of the most memorable is a concert at a student-occupied university: The leftists (including the brothers' cello-playing sister) present a version of the "Ode to Joy" rewritten to sing Mao's praises, only to be interrupted by Fascists yelling, "leave Beethoven alone!" The movie's theme song, by the way, is "Chariot," a French tune whose melody was borrowed by "I Will Follow Him," the 1963 worldwide hit by Little Peggy March (nee Margaret Battavio). (2007, 100 min; at Landmark E Street).
A vice-squad detective who's working mean, multi-culti LA, Tom Ludlow (Keanu Reeves) has two big problems. He's incorruptible but brutal, with an earned reputation for unnecessary roughness. His ex-partner now is talking to the Internal Affairs officer (Hugh Laurie, practicing his American accent) who's investigating the entire crew run by Ludlow's protective boss (Forest Whitaker, wasting his time). But the more serious dilemma is that Ludlow has never apparently seen a crooked-cop drama, so it takes him nearly all of STREET KINGS to figure out what the casual viewer will get in about 10 minutes: that Tom's real enemy is — oh, go ahead, figure it out for yourself. Adapted from a James Ellroy story by director David Ayer (who wrote the similar, and similarly absurd, Training Day), the movie features bob-and-weave camera, lots of gore, and a couple of rappers (Common and the Game, not that it matters). Guzzling vodka and trying to wring pathos from his dead wife, Reeves's Ludlow is supposed to be soulful. If he really were, though, he would exit the flick the first time he's subjected to sub-Mamet patter like "you can't ride the tiger forever." (2008; 107 min; at local multiplexes)