MARCH 31, 2008: INTERVIEW
Leave Barbie at Home
Documentarian Arne Johnson Goes Where the Girls Rock
By Dave Nuttycombe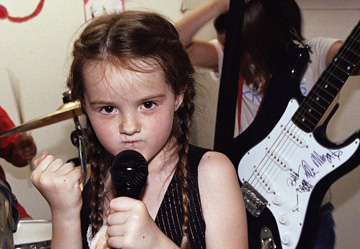 The Grrrl Can't Help it: 7-year-old Palace rocks the camp. (Shadow Distribution)
AT GIRLS ROCK CAMP in Portland, Ore., youngsters aged 8 to 18 get to, yes, rock out under the supervision and tutelage of female counselors and instructors. Girls Rock! focuses on a few camera-ready campers, including precocious 7-year-old Palace, Korean adoptee and goth fancier Laura, 8-year-old future polymath Amelia, and recovering wild child Misty. Over the course of the week, the campers must form bands and write a song, often learning their chosen instruments in the process. The film ends with a concert, but the camp is about much more than basic rock, or music. The mission statement speaks of building "self-esteem through music" and encouraging "social change and the development of life skills." These skills include self-defense — not something that, say, the members of R.E.M. probably studied as they developed their chops.
Though Girls Rock Camp is a 100-percent female endeavor, the movie's directors are male: ARNE JOHNSON and Shane King. Perhaps it's akin to Nixon going to China — it took these outsiders to bring a fresh perspective. So my first queries over the phone to the San Francisco-based Johnson were: Why did you want to make this movie and why did they let you?
It's an interesting question. The women-centric nature of it kind of slipped up on us. I first heard about the camp from [Sleater-Kinney's] Carrie Brownstein. She gave this speech at an event, and somebody asked her if rock and roll was dead. She said, "No, I've just been teaching at the camp." She talked about how incredible the music was and how these girls were at the very edge of music experimentation at the age of 8. This amazing rock guitarist who really didn't need to spend her time mucking around in a warehouse with 7-year-olds was doing so. I wanted to know why. So Shane and I went to Portland and started interviewing people. As we started talking to the counselors we realized that it was all women and girls and that there was this other mission of the camp, beside just teaching these girls to rock out.
By that point, we had interviewed a fair amount of people. We were feeling pretty attached to the story and had a couple experiences of seeing the girls play live. There was one concert in particular that Shane shot, where this band of 10- to 12-year-olds called the Ready played and he was noticing that women around him watching them sing ... were openly crying. He himself was very emotional and couldn't figure out why. We asked the counselors about that — what was it that means so much to people? We were really hooked on what was going on there and feeling very strongly about whatever it was that the camp was doing for these girls. We definitely had a period where we asked ourselves, "Is this something we should be doing? Is this something we can really understand?"
The fact that we were guys [made us] sort of tourists to their experience. We started realizing that, instead of inhibiting the girls, it was actually encouraging them to talk more. Because they would say something like, "Oh, you know how it is when you think you're fat all the time. Anyway..." And we were constantly having to stop them and say, "No, what do you mean by that? That's not something I'm familiar with." So they would go back and talk in detail, and get this light in their eyes — Wow, you don't really know what our experience is. It felt like the same energy when you tell a 9-year-old, "Oh, I'd love to see that comic book that you're writing." That, Oh, you're an adult and you're actually interested in what I'm doing?
In the end, we realized this was going to be our film. It's going to be this energy between the girls and us. It's an explanation of how girls are feeling right now and how the camp really means something to them. A woman would make a very different film and probably just as good and interesting, but it would have a different angle. I'm certainly hoping lots of women will make such women-centric documentaries, but for us it was a tribute to the great stuff these girls were willing to tell us. To their credit and also to the camp's credit, they never brought it up to us that we were guys. They were worried about the camera and stuff, but they never said to us, "Oh, you are guys, you're never going to understand this stuff."
There's some lively animation that presents some pretty disheartening facts and statistics: "Number 1 wish of teenage girls is to lose weight"; "In 1970, the average age for girls to start dieting was 14. By 1990 it was 8."
As we were doing the interviews with the girls, we were really shocked by a lot of the stuff. So we wanted to see if this a national thing, and if there's information supporting this. As we researched that, we started to think about ways to introduce it into the movie, this other context that girls were escaping from at this camp. We met Liz Canning, who's an animator and editor here in the Bay area. We had seen some stuff on her reel that was really very similar, in a video way, to the aesthetic of the people who are at the camp, which is very pasted together and collage-y. We asked her to do a test piece on a theme — I think it was on body image — and gave her some stats to work with. That piece in there is largely what she came up with, and we were really amazed by it and asked her to do a couple more.
I'm guessing you're familiar with the Seven Up series? Have you considered returning to the camp and chronicling the girls over the years?
I was just up there last weekend interviewing all the girls for the DVD extras. Because it's been three years for the camp already and kids at that age change so fast. Amelia, for instance, if 5 inches taller than she was; I didn't know at first it was her. We're friends with all the families, so we're going to be in touch with them. Maybe in a few years we'll check in with them again. But we're also pretty conscious of the impact that we've had on their lives so far. A lot of [the subjects of the Up series] are pretty bitter about their exposure. And we really like these kids a lot, so as much as we loved doing the movie, we're not super-psyched to make their lives exposed for the rest of their existence.
Girls Rock! opens Friday, April 4, at the Avalon Theater. There will be a post-screening dance party featuring the bands Girls Rock Distortion, Blue Black Betty, and DJ Natty Boom, plus a discussion with the women of D.C.'s girl rock camp GR!DC (Girls Rock DC).

Interview © 2008 Dave Nuttycombe