MARCH 21, 2008
Skate Bored
By Mark Jenkins
Paranoid Park
Directed by Gus Van Sant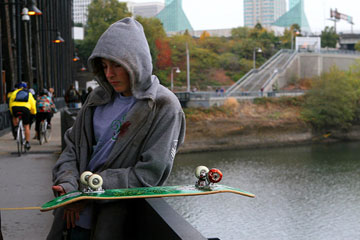 Halfway to the Other Side: Gabe Nevins near Paranoid Park. (IFC)
Also this week: THE COUNTERFEITERS, UNDER THE SAME MOON, SNOW ANGELS, and MILITARY INTELLIGENCE AND YOU!
Anyone can see what Gus Van Sant's most heartfelt films are about: the tragic beauty of aimless young men. But that theme doesn't necessarily lead to a story, and the director's recent movies all resort to tales that are extremely simple (Gerry) or already well-known (Elephant, which is Columbine High School, and Last Days, which is Kurt Cobain). Van Sant isn't desperate enough to return to conventional Hollywood scripts like the half-convincing Good Will Hunting or the utterly phony Finding Forrester, but with Paranoid Park the writer-director-editor does take a well-trod path: adapting a mainstream novel.
Blake Nelson's book is a tale of broken families, a brutal death, and a boy's contemplation of his role in what happened one night, suddenly and unexpectedly. Van Sant keeps all of that, and even -- in one of his most dubious choices -- explicitly depicts the gruesome fatality. But the emphasis is on the contemplation, and on transporting average teens and everyday Portland, Oregon into the realm of myth. Like most of Van Sant's indie output, the movie doesn't quite work, but beguiles nonetheless.
The director makes his bid immediately, by opening with a Nino Rota composition borrowed from a Fellini film. (Juliet of the Spirits and Amaracord provide much of the music, which out of context sounds like film noir accompaniment.) As the score hops from country to French electronica to Billy Swan's "I Can Help," Van Sant clarifies musically that this is not a teen flick, with its marketable, over-obvious soundtrack of emo, pop-metal, and hip-hop.
No "Skater Boi" then, but naturally there is a lost boy: shaggy-haired Alex (Gabe Nevins), who's introduced walking to the ocean, the picturesque site where he will begin to write down what happened. He can't seem to recount the incident in sequence -- "I didn't do so well in creative writing" -- but that suits Van Sant just fine. The director circles around the story, and even after the central event is revealed, he leaves the possibility that something else might have happened that night, an encounter just as disconcerting to innocent Alex as the one we're shown.
The film's title refers to an illegal skateboard park on Portland's east side, a shadowy wonderland of concrete curves that's represented by Burnside Skate Park. (The credits caution that the real place is not so scary as the fictionalized one.) The action there is partially rendered in low-def, documentary-style Super-8, hurtling bodies and boards and momentary mid-air suspensions suggesting angelic grace at a site Alex finds kind of demonic. "No one's ever really ready for Paranoid Park," warns Alex's mentor, Jared (Jake Miller), a laughably hard-boiled remark that underlines the film's mix of coming-of-age flick and noir flashback.
Unraveled, the story is simple: Alex is bummed, in part just because he's a high school boy, but also because his parents are splitting and his virginal cheerleader girlfriend Jennifer (Taylor Momsen, oddly believable in a one-dimensional role) is pressuring him for let's-get-it-over-with sex. One night while Jared's out of town, Alex goes unaccompanied to Paranoid Park, where he meets an older man who suggests they hop a freight. At the railyard, the two trespassers tangle with a security guard. Later, school administrators and police detectives start looking for answers. Alex doesn't have many, even for himself. Narratively, that's not much of a payoff; emotionally, it's more than enough.
This rapturous bad trip was photographed by Christopher Doyle (best known for his work with Wong Kar-wai) and Rain Kathy Li, who use long takes and blurred colors to paint Portland as an adolescent's hallucination. From clouds to skaters to Jennifer's long blonde hair, ordinary things become abstract, unreal, strange. If a solo spin to the skater hangout represents initiation into the grown-up world, Paranoid Park makes adulthood look as foreign as it is threatening. No one's ever really ready for it.