MARCH 7, 2008: INTERVIEW
Eastern Promise

By Mark Jenkins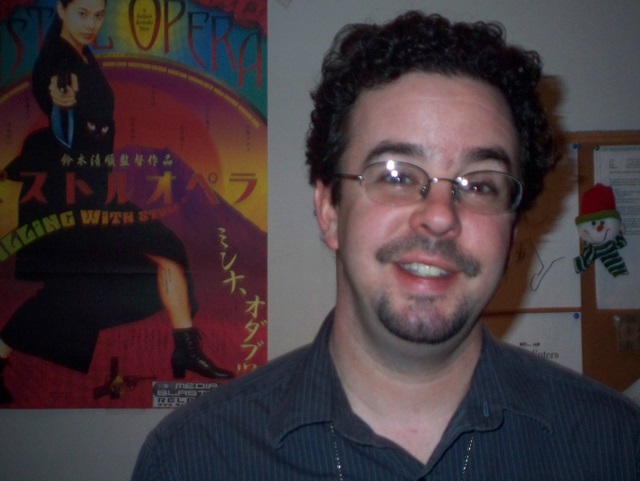 Top Gun: Tom Vick in his office, with a poster for Suzuki Seijun's Pistol Opera. (Mark Jenkins)
TOM VICK IS THE FILM PROGRAMMER for the Freer/Sackler Galleries and the author of the recently published Asian Cinema: A Field Guide, which ranges from early 20th century China and Japan to contemporary Malaysia. In a recent conversation at the Smithsonian's Castle Cafe, he explained how he came to specialize in Asian cinema.
At film school in L.A., I had this class called "Film Today." That's where I first saw films by Hou Hsiao-hsien, Wong Kar-wai, and Abbas Kiarostami, people like that. It was in the '90s, when all those directors were starting to be shown. I got interested then. After film school I worked at the L.A. County Museum of Art as an assistant programmer, and one of my jobs was to bring in more world cinema. Plus, living in Los Angeles, you see a lot of Asian films; they get commercial releases there. And then I took this job, and now Asian film has completely taken over my life. [laughs] I still haven't seen 4 Months, 3 Weeks, and 2 Days.
What was the impetus for the book?
In doing research for my job, I found that there wasn't anything like this around. Asian film books tend to be very specialized or very academic.
Your book defines Asia the way the Freer/Sackler does, as everything from the eastern Mediterranean to the Pacific.
The only controversy is Turkey. If it gets accepted into the European Union, we'll have to delete that section. [laughs] The accepted definition seems to be the Middle East, the Eastern 'stans, and across. That is the Freer's definition also.
I don't think of Israel, for example, as an Asian country.
I actually do get e-mails from people complaining that we don't show Israeli films. It's not for any reason except that Israeli films are covered by other festivals. But technically I could, and probably should, do an Israeli series.
In the book's introduction, you outline a best-of-times, worst-of-times scenario: Asian films are more popular than ever, but you can't actually see them.
Yeah, yeah. [laughs] This book has been in the works for about three years, and since I wrote that more and more things have come out on DVD. The theatrical release of Asian films is as bad as it has been, and is probably getting worse, especially since theaters are closing down. But more of these niche distributors have popped up. When you go to Netflix, you can find obscure films from Thailand or Korea. If you really do want to find something, you can. You'll have to see it on DVD, but if you can't find it at Amazon or Netflix, you can order from international sites like YesAsia. Get a multi-region player and see almost anything you want.
Take a film like Chinese director Lou Ye's Summer Palace, which the Freer is showing this month. I saw it for the first time on a big screen, and I'm not sure it would have hit me the same way if I'd seen it on DVD.
I think you're right. I feel the same way about that movie in particular. It's overwhelming on the big screen. There are lot of movies I feel that way about, like [Jia Zhange-ke's] The World.
The medium we have to deal with is DVD. But then again, more and more film festivals are popping up. Philadelphia has a pretty good film festival; we've got a pretty good film festival. If you're dedicated, you can see a decent number of things on the big screen. But you have that one shot and that's it.
Is there a section of the book that you'd like to explore in greater depth?
Yeah, Southeast Asia. Malaysia, Thailand, and Singapore have a lot of filmmakers coming up, especially with the video revolution. And Korea. Korea is discovering itself in two ways. There are all these new films, but they're also constantly restoring old films, and finding films they thought were lost. The Korean Film Archive has this brand new facility that's incredible. It's this huge cultural investment they've made. It's almost impossible to keep up with Korean cinema, and it's not just new films but older ones. Korean film history is being rewritten every year.
As a film programmer, do you deal with a lot of government cultural agencies?
It varies by region. In Southeast Asia, none of it is government-funded. In Korea, it's the opposite. Korea's government entities are the easiest to deal with. Their job is to promote the films. With other countries, it's more of a negotiation. For instance, the Sri Lankan series we're doing now. They want to show films that put their country in a certain light. My interest is in films that will be of interest to the audience.
Getting Japanese films can be difficult. Is that because they have delusions of grandeur based on having once been an international film power?
Well, the studios do. When you're dealing with Toho and companies like that, yeah. But Japan also has this independent movement, and it's easier to get those films. We'll see, because I'm actually planning to do a big contemporary Japanese series, maybe in November. I have this list of films I want, and we'll see how easy it is to get them.
More difficult these days, I've found, is India. That's partly because it's very hard to deal with the Indian government, and partly because producers and distributors of popular Indian cinema seem happy to just distribute to the diaspora. And they're absolutely paranoid about piracy. People really want a Bollywood series, and it's very hard to get Bollywood films on 35mm.
The release of My Blueberry Nights, Wong Kar-wai's first English-language movie, has been pushed back, and John Woo didn't exactly thrive in Hollywood. Can you take these filmmakers out of their original context?
I haven't seen My Blueberry Nights, but the reviews have not been kind. I think it depends on the filmmaker. I like some of John Woo's American films a lot. And look at Hou Hsiao-hsien's The Red Balloon. He made this great film in Paris, and [Korea's] Hong Sang-soo has made one in Paris now.
Do you see a generational divide in the audience? Is there a younger audience for anything other than anime and action comedies?
I heard Grady Hendrix, who writes for Variety, on NPR, and he said you have to essentially give up on people in their 30s. They're already decided if they're willing to see films with subtitles, and if they're not, you're not going to change their minds. He was saying that everyone should concentrate on young people. They start with anime when they're in middle school; every school has an anime club. And they branch out from there. Anime is like a gateway drug for Asian cinema. [chuckles] That's encouraging to me.
Tom Vick will speak about Asian films and his book before the screening of Summer Palace, March 16 at 1:30 pm at Freer/Sackler Galleries's Meyer Auditorium.