FEBRUARY 29, 2008
Not-So-Bad Girls
By Mark Jenkins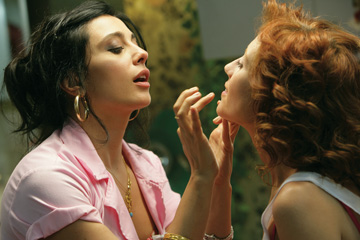 In Caramel, there's no home like the salon. (Roadside Attractions)
The bubbling sugar that frames the credits of director and co-writer Nadine Labaki's
CARAMEL
is being prepared as a depilatory, but also serves as a metaphor. A Lebanese variation on such French ensemble comedies as
Venus Beauty
, this charming if lightweight movie celebrates the women-only vibe of a salon while chronicling the sweet agonies of romance. Layale (played by the director) runs the mildly ravaged Si Belle -- the "B" dangles upside down -- and waits anxiously for her married lover to call. Her employees include an engaged Muslim who worries that her husband will realize on their wedding night that she's not a virgin, and a short-haired woman who develops an intense (but unarticulated) crush on a female customer. Crises could ensue, but don't, since Labaki is less interested in melodrama than an evocation of everyday women's lives in almost-normal, part-Westernized Beirut. Individual sequences range from slapstick (a little boy lifts Layale's skirt under the table, and she assumes it's her lover's touch) to near-musical (Layale takes on the phone while the cop who admires her from a distance pretends to be part of the conversation), but are grounded by such documentary detail as a Maronite-Christian procession that invades the shop. "To my Beirut," reads
Caramel
's dedication, and it seems that Labaki got a lot of her city on screen.
There's much in THE OTHER BOLEYN GIRL that's historically accurate, or at least feasible. But that doesn't matter, since director Justin Chadwick's film turns everything it touches to howling camp. Adapted from Philippa Gregory's novel by Peter Morgan, who did much better by The Queen, this costume wannabe-drama purports to recount the relationship among Henry VIII (Eric Bana as a different sort of Incredible Hulk) and both Anne Boleyn (Natalie Portman) and her sister Mary (Scarlett Johansson). Some historians believe that the horny Tudor took Mary as a lover before marrying Anne, the second of six mostly unfortunate brides. The title's actually clever: Anne and Mary keep switching their positions as "the other Boleyn girl" as their fortunes shift. But Portman and Johansson have already proved that they don't belong in period pieces (see Goya's Ghosts and A Good Woman, respectively), and Morgan's script has a distressing tendency to reduce major historical developments to blurted one-liners: In one, Anne suddenly suggests that Henry establish a Church of England, as if proposing he take a nap before dinner. With fussy framing, a brown-and-gold color scheme, and over-choreographed crowd scenes, Chadwick makes everything appear absurdly genteel. In a movie this contrived, even decapitation looks like a courtly dance.
Set in a weird non-place that lacks consistent accents and coherent architecture, director Mark Palansky's PENELOPE means to be a fable, but is too forced to convince even as pure fantasy. The title character (Christina Ricci) is the first girl born to a family under a curse: Its daughters will have pig snouts in place of noses until they're accepted by "one of their own." Penelope's protective but idiotic parents (the sadly unfunny Catherine O'Hara and Richard E. Grant) decide that this means their daughter must marry a member of the upper class, and start rounding up young modern-day princes. The guys run screaming from Penelope's schnozz, which doesn't make any sense: First, it's not that shocking, and second, upper-crust gents would slip away much more tactfully (and potentially, more amusingly). Penelope develops a relationship with Max (James McAvoy), who doesn't glimpse her, but all she really needs to break the curse, of course, it is to accept herself. In other words, embrace accept who are and you immediately become someone better. That's a suitably confounding moral for a movie whose very existence is perplexing.
...and Worse Boys
Although its mix of archival footage and animation is unusual, CHICAGO 10 fits neatly into a rapidly growing category: the you-hadta-be-there documentary. A fractured tale of the eight activists busted for "conspiracy" after the tumultuous 1968 Democratic Convention in Chicago, Brett Morgen's film will make little sense to viewers who weren't engaged back when -- as protesters chanted -- "the whole world [was] watching." The movie uses lots of news footage, but depicts the trial of the eight (Morgen ups the number to 10 to include their attorneys) with jerky motion-capture animation. (Sort of like Beowulf, but without Angelina Jolie's 3D contours.) The film is smitten with the Yippies, notably Abbie Hoffman, Jerry Rubin, and unindicted non-conspirator Paul Krassner; their attempts to turn the trial into a spectacle show how much they owed to the Situationists, who had fueled street strife in Paris just a few months before the ideological circus came to Chicago. For the savvy audience, Chicago 10 provides lots of evocative details. (I liked the "Welcome to Prague" sign). But even the outline of a comprehensive account never emerges, and the attempts to create contemporary links -- by injecting songs by the Beastie Boys and Rage Against the Machine, for example -- are perplexing. Morgen's film will probably prove be more authentically Yippie-ish than Steven Spielberg's planned Trial of the Chicago 7, but its messiness is seldom illuminating.
More footnote than sequel to the stunning City of God, CITY OF MEN grew out of a TV series, which explains its more conventional narrative and resolution. Fernando Meirelles, who directed the original, is one of the producers, but the film was directed by Paulo Morelli, who only occasionally tries to emulate the original's dazzling technique. The story centers on Ace (Douglas Silva) and Wallace (Darlan Cunha), two essentially fatherless Rio de Janeiro teenagers struggling to become adults. (The transition is forced on Ace, who's left with his infant son when the boy's mother gets a job in Sao Paulo.) A gang war strands Ace and Wallace on separate sides of a battle line, and then a revelation tests their friendship. But the really bad stuff happens only to supporting characters, which is one reason City of Men lacks the immediacy of its predecessors (not just City of God, but also Pixote and others.) Where Meirelles used his virtuoso style to conjure the precariousness of shantytown life and the nonstop invention of local mythology, Morelli tells a male-bonding story that verges on the generic. Even the music -- samba in place of favela funk -- is blander in this bleached-out facsimile of Meirelles' masterpiece.