MAY 18, 2008
Historical Traumas
Reviewed: Before the Rains, Fugitive Pieces, Irina Palm
By Mark Jenkins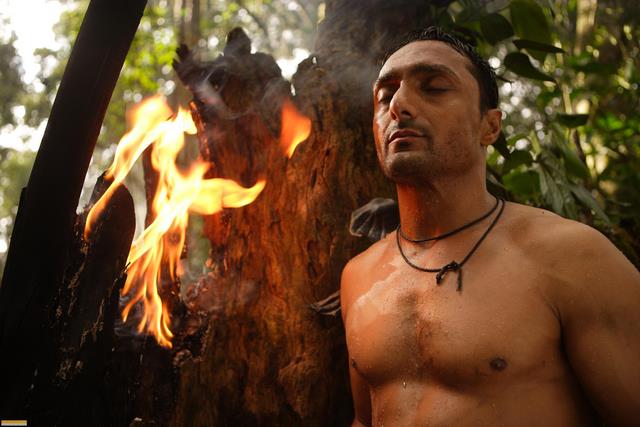 Ritual Trumps Romance: Before the Rains . (Roadside Attractions)
An interview with Son of Rambow director Garth Jennings and producer Nick Goldsmith
BRITISH-INDIAN RELATIONS UNRAVEL beside the corpse of a woman in BEFORE THE RAINS, a melodrama that's Indian director Santosh Sivan's first mostly English-language film. The movie is the latest in a string of Brits-abroad period pieces that include The Painted Veil and the upcoming The Children of Huang Shi, and of the three, it's the least retro. Although English rancher Moores (Linus Roache) is the central character, the movie looks forward to the day when he and his compatriots will be gone.
Set in Kerala, South India, in 1937, the tale begins by introducing Moores's two passions: the mountain road he's building to carry local agricultural goods from the highlands, and his married housekeeper, Sajani (Nandita Das). Moores is married too, and his wife Laura (Jennifer Ehle) and son soon return from Britain. Yet the affair is threatened not by Laura's arrival, but by Sajani's brutal husband, who hears from some boys that his wife was seen in the forest with an unidentified man. When Sajani arrives at her lover's house with fresh bruises, Moores can think of no recourse except to send her away. That plan doesn't stick, and the bereft Sajani kills herself. Moores responds, improbably, in a way that deepens his guilt, although suspicion initially falls on the man in the middle: Moores's steadfast Indian assistant T.K. (Rahul Bose).
This movie was co-released by Merchant Ivory productions, and the simplest analysis is to equate it with one of James Ivory's period dramas. It's not much like them, however. Although the film isn't as showy as his claustrophobic The Terrorist, Sivan is a stronger visual stylist than Ivory. In addition, the scenario doesn't come from Edwardian literature, but from an Israeli film, Yellow Asphalt, set in contemporary times. That may explain why Cathy Rabin's script is more sympathetic to the natives than were Raj-period British writers.
In the weirdest development, T.K.'s integrity is tested by an ancient torture ritual — and he passes, a triumph of superstition that undercuts the movie's seriousness. Ultimately, the story's emphasis passes from Moores to T.K., who's last seen joining a march for Indian independence. The monsoon rains, of course, symbolize a power the British can't control. That's simplistic, but it's hardly a Anglophile's notion. Rather then romanticize British rule, Before the Rains uses the Raj's missteps to celebrate Indian traditions that appear equally unadmirable. (2007, 98 min; at Landmark E Street and Bethesda)
A SORT OF NEW-AGE HOLOCAUST DRAMA, FUGITIVE PIECES provides the usual horrors, yet is more concerned with healing. As a Jewish boy in 1942 Poland, Jakob Beer watches from his hiding place as the Germans kill his father and abduct his teenage sister, Bella, and their mother. He's rescued, improbably, by a Greek archaeologist, and taken, somehow, to refuge on a Greek island. The Germans arrive there, too, but only bit players are killed. Jakob endures to move to Toronto with his savior, Athos (Rade Sherbedgia), and grow up to be a brooding but gentle poet played by Stephen Dillane. (The Yiddish-speaking man who lives down the hall next door illustrates the angrier variety of Holocaust survivor.) Jakob meets and marries Alex (Rosamund Pike), a blonde shiksa so full of life that she buys red shoes in the rain. That union doesn't work out, but later Jakob meets Michaela (Ayelet Zurer), who's earthier, quieter, and just the balm his emotional bruises need. She, in turn, weeps as she reads her new lover's journal.
If this summary makes writer-director Jeremy Podeswa's film sound like a bookish romance, the movie was adapted by a novel from a woman, Anne Michaels. That origin may explain why — as noted by my filmgoing companion, Robin Diener — Fugitive Pieces offers a female ideal of the tormented hero. Dillane's Jakob is kind-eyed and charming, but not entirely convincing. His lifelong desire to locate Bella — who appears to him, and us, in myriad flashbacks and dream sequences — demonstrates his admirable fidelity to the women in his life. The movie's title, never explained, is an apparent reference to Bella's piano playing, and delicate Beethoven and Satie compositions complement the gauzy images of hellish Poland and paradisaical Greece. Given the idealization of the becomingly suffering Jakob, however, another title suggests itself: The Ideal Husband. According to this well-meaning but too-pretty picture, the Holocaust was a form of sensitivity training. (2007, 104 minutes; at Landmark E Street) and the Avalon Theater)
AN OLDER WOMAN WITH NO CAREER SKILLS suddenly in need of employment doesn't have many options, but that doesn't entirely explain how a suburban British widow finds herself giving hand jobs at a Soho dive. Yet desperate houswife Maggie (Marianne Faithfull) makes that transition with relatively little fuss in IRINA PALM, a film named for the nom de wank Maggie assumes after she supposedly becomes the most popular masturbator-for-hire in London. There's a noble reason for Maggie's gig: She's trying to raise money to send her young, dying grandson to Australia for experimental treatment. Luckily for the boy, Maggie happens upon Sexy World, which is run by sleazy but not heartless Miki (Miki Manojlovic). Once Maggie has proved her touch, Miki is willing to advance her the cash for the boy's trip.
Although director Sam Garbarski artfully blocks the objects of Maggie's ministrations, the film does explain the process in detail. That Irina Palm is 60 and overweight doesn't matter, since her clients never see her; they simply insert their penises through a hole in a wall to meet Maggie's palm. (Is there actually a heterosexual market for this sort of encounter? I dunno, but I've never heard of it.) Perfunctory and impersonal as Maggie's work is, it boosts her self-esteem. She begins to glow, and develops the strength to tell off her disapproving son (the ailing boy's father) and bitchy suburban peers.
Maggie's transformation would have more kick if Irina Palm changed with her. But the film remains slow, distant, and overly somber throughout, taking its cues from Ghinzu's ambient guitar-strum score. The script does have some fun with Faithfull's reputation, contrasting the woman who recorded the scabrous "Why d'Ya Do It?'' with the sheltered Maggie, who doesn't know what a Soho "hostess" does and — Miki suggests — "can't even say fuck." The amiable Irina Palm can, but not with any great conviction. (2007, 103 minutes; at Landmark E Street)