APRIL 27, 2008
No Exit
Harold, Kumar, and America
Fail to Escape from Guantanamo Bay
By Mark Jenkins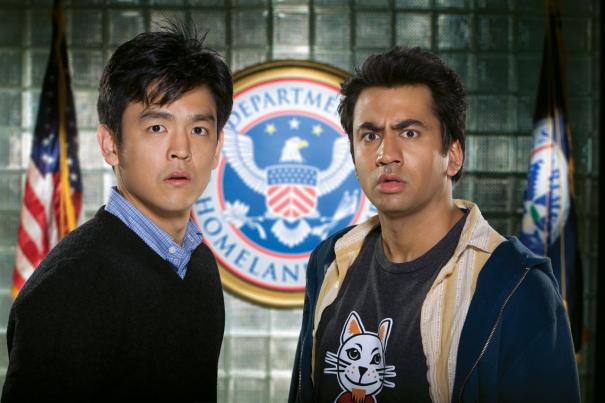 Locked Down: Harold & Kumar meet an agency that's as oblivious as they are. (New Line)
Also this week: reviews of more than 50 films showing in FILMFEST DC.
TRADITIONAL NARRATIVE STRUCTURE is not a major concern of the Harold and Kumar franchise, so there's no point in griping that Harold and Kumar Escape from Guantanamo Bay's title event takes only moments, and occurs in the movie's first half hour. The second H&K flick (following, of course, Harold & Kumar Go to White Castle) is basically a road trip, stuffed with the usual ingredients of today's dumb-boy comedy: excrement, semen, nudity, abusable substances, ethnic slurs, and, of course, sexual panic. Korean-American business-major Harold Lee (John Cho) and Indian-American medical-student-in-waiting Kumar Patel (Kal Penn) are almost as freaked by attractive naked women as by hillbilly prison guards demanding blowjobs.
The latter horror is experienced at Guantanamo Bay, where H&K arrive after weed-loving Kumar insists on inaugurating a new high-tech bong while on a flight to Amsterdam. The joke cuts both ways, as do many of writer-directors Jon Hurwitz and Hayden Schlossberg's racially profiled jibes: White Americans are so clueless that they can't tell an Indian slacker from an Arab fanatic, but Kumar is so stupid he can't wait a couple of hours to light up in the world capital of legal dope.
Grabbed by air marshals, the boys are sent to Camp X-Ray, where they barely have time to sweat the potential loss of their hetero credibility before they're out the door, and on their way to Miami. From there, the itinerary meanders — via a Klan rally and a whorehouse — to Texas, where Kumar intends to stop the wedding of ex-girlfriend Vanessa (Danneel Harris) to H&K's former college classmate Colton (Eric Winter), the sort of malevolent preppie who might as well be wearing an SS uniform.
Colton's politics are those of the crustless-white-bread villains from high-school and college comedies, stretching back at least as far as Animal House, but he's not H&K's only right-wing antagonist. As the guys head west, they're tracked by Department of Homeland Security nutcase Ron Fox (Rob Corddry), who embodies the paranoia of a government that would — well, create an agency called Department of Homeland Security.
Many of the gags have nothing to do with Guantanamo and DHS, of course. But any maker of wince-then-guffaw farces can contrive to have his heroes sprayed with urine, or seemingly threatened by very large African-American men. What distinguishes Harold and Kumar Escape from Guantanamo Bay is its willingness to mock the national security state. Ron Fox is the guy who lied about Iraq's WMDs, who failed to catch Osama Bin Laden, and who makes your take off your shoes before boarding a plane — all rolled into one sitcom dimwit.
What can done about this major civic annoyance? That's where the movie punts. Having escaped Fox, H&K find themselves smoking dope — and bonding — with a top government official. (The joke isn't very funny, but I won't spoil it.) This laidback civil servant tells H&K how to tolerate the politically intolerable: Don't identify with the U.S. government, identify with American nation. Thus relieved of all responsibility for the system that sent them to Guantanamo Bay, the guys can scurry off to a happy ending. It's not unusual for Hollywood movies to dispel serious questions with cop-out resolutions, but this one's really a downer: Take another toke, man, because U.S. troops really will be in Iraq for another 100 years, and no American alive today will escape the mindset that created Camp X-Ray. (2008, 102 min; at local multiplexes)