JULY 18, 2008
God Smacked
The inhabitants of Brideshead Revisited really want to believe; the agents of The X-Files just pretend they do
By Mark Jenkins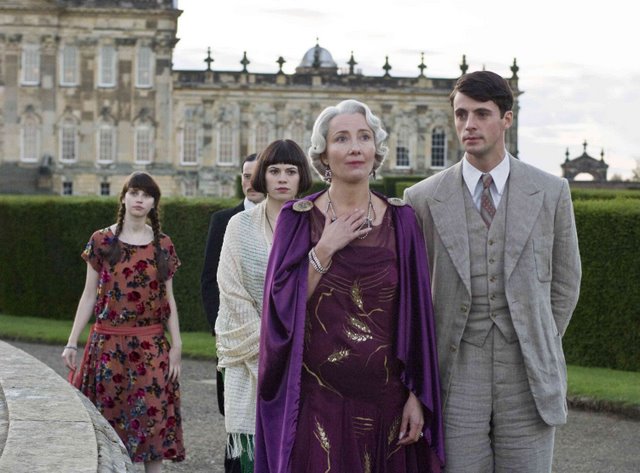 Mother Knows Worst: Emma Thompson (center) and Matthew Goode (right) at Brideshead (rear). (Miramax)
THERE'S NO ESCAPE from king, country, and the Catholic church. Or from the long memories of fans of Brideshead Revisited, the rapturously received 1982 miniseries that made the most — that is, the lengthiest — of Evelyn Waugh's semi-autobiographical 1945 novel. Yet director Julian Jarrold, who dared imagine a love life for Jane Austen in Becoming Jane, takes on the book and the series, as well as the church, in his new condensed version. It is, as the English might once have understated, not half bad.
The story, as the miniseries faithful well remember, is simple: Middle-class Charles Ryder (Matthew Goode) escapes his drolly disinterested father (Patrick Malahide) and enrolls at Oxford, where he meets the flamboyantly gay — and just plain flamboyant — Sebastian Flyte (Ben Whishaw). Sebastian is attracted to Charles, and Charles is attracted to Sebastian's life, which includes the family estate, Brideshead, and sister Julia (Hayley Atwell). Charles's presence is monitored closely by Lady Marchmain (Emma Thompson), Sebastian and Julia's obsessively Catholic mother, who ultimately expels the lower-caste (and Anglican-atheist) interloper. By then, Sebastian has become a desperate drunk, and Julia has married a grasping (but Catholic) American.
Although most of these events could proceed without Catholicism, the book's religious themes were crucial to Waugh, who renounced his own omnisexual Oxford years when he dedicated himself to the church. Scripters Jeremy Brock and Andrew Davies depart from Waugh's story at times, notably by expanding Julia's role, but they don't omit a single crucifix. The Flyte-Marchmain clan's insistence on its near-medieval brand of Christianity is expressed both in keen asides — "an agnostic, surely," responds Lady Marchmain when she first hears that Charles is an atheist — and high drama: Wayward father Lord Marchmain (Michael Gambon) returns home from Venice to die, and Charles tries vainly to protect him from what seems a forced deathbed acquiescence to his wife's dogma.
Jarrold's Brideshead Revisited can be melodramatic, and suffers from casting missteps. Both Goode and Whishaw, although skinny as little boys, look too old to be undergrads, and Thompson is too young (and also a bit too likable) to be the fearsome, gray-haired Lady Marchmain. Fundamentally, though, the director and scripter did well. They were right to challenge Waugh (and those miniseries devotees) by creating a more forward-looking Brideshead, and by wrapping Lady Marchmain's austere religion into the package of anachronisms that also includes the British class system and the massive country house. Although beguiled by Brideshead, Charles Ryder ultimately sees that its glamour is inextricable from intolerance and tyranny. No wonder that nostalgic fans of the book and TV series are alarmed. (2008, 133 min; at Landmark E Street)
THE CATHOLIC CHURCH ALSO GETS PUMMELED in The X-Files: I Want to Believe, which features a pedophile ex-priest and the creepiest Catholic hospital this side of 1900. Yet these provocations have little impact, because they're part of a perfunctory tale that lacks either dramatic or emotional conviction.
The first X-Files movie in ten years — a lawsuit obstructed its path — I Want to Believe reveals Mulder (David Duchovny) as a bearded, aimless recluse and Scully (Gillian Anderson) as a doctor who's more interested in rare medical cases than paranormal ones. When the FBI's Dakota Whitney (a miscast Amanda Peet) recruits them to help find a missing agent, Scully learns that the dying boy who's foremost in her mind — named Christian, no less — is connected to the very case she's been asked to help crack. That's the logic of TV scripts, and this flick is very much another episode in the bygone series, even if it runs (without commercials) almost twice as long.
Mulder and Scully's link to the unknown is the pedophile, Father Joe (Billy Connolly), who's loathed by Scully and distrusted by everyone else — save Mulder, who's the story's wanna-believer. Moving between snowy West Virginia and a Washington where skyscrapers frame the Capitol dome, the two agents search for the apparently abducted FBI agent. This leads them to Russians undertaking medical experiments that are as creepy as they are silly, but who cares? Like most such TV-franchise movies, I Want to Believe depends heavily on residual affection for the main characters, and curiosity about their post-cancellation lives. In the case of these two, what most people most want to know about is their on-and-off romantic alliance. Will Mulder and Scully live happily together ever after? An answer to that question is hidden in plain sight, at the end of the final credits. (2008, 104 min; at most of the megaplexes)