JUNE 6, 2008
Experimental Music
LOVE SONGS sings of real life, while THE CHILDREN OF HUANG SHI turns a true story into an old movie
By Mark Jenkins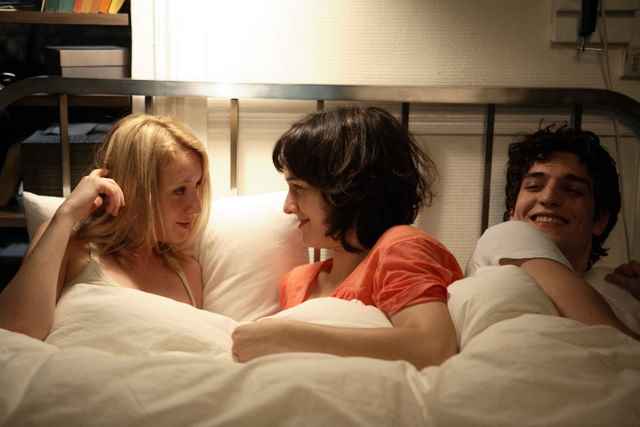 Just a new-fangled love song: Sagnier, Hesme, and Garrel (IFC)
Situations arise/because of the weather
And no kinds of love/are better than others
— "Some Kind of Love," Lou Reed


CHRISTOPHE HONORÉ'S PREVIOUS FILM, the delightful Dans Paris, culminated with three young people in bed, a situation that arises soon in his equally charming new one, LOVE SONGS. The two films don't quite dovetail, but they do feature common themes — love, sex, family — and revel in Parisian street life. The big difference? This one's a musical, a development that also grows out of Dans Paris, which includes one scene in which the members of an estranged couple serenade each other by phone.
It's no surprise that one of the people in the bed is played by Louis Garrel, who was also involved in Dans Paris's three-way and the even kinkier arrangements of its predecessor, Ma Mere. Garrel is Ismaël, a journalist who lives with Julie (Ludivine Sagnier). Because Ismaël works late, Julie is often lonely. That might explain why Julie has taken up with Alice (Clotilde Hesme), except that Alice is Ismaël's coworker, and keeps the same hours he does. When the three do end up in bed together, the results are less than blissful. (Alice doesn't even get to read her Proudhon.)
At the end of the first of three chapters, the threesome is suddenly and shockingly ruptured. Julie departs from the tale, and Alice takes up briefly with Gwendal (Yannick Renier), one of two Breton brothers. This has an unexpected consequence when Gwendal's younger brother, Erwann (Gregoire Leprince-Ringuet), meets Ismaël and begins to pursue him. Meanwhile, Ismaël tries to maintain his relationship with Julie's family, including her sister (Chiara Mastroianni) and mother (actress-director Brigitte Roüan, who's also tweaked some sexual taboos in such films as Post Coitum). These overlapping relationships are believable, even if the characters's ambisexuality is idealized. Adding to the unreality, of course, is that the characters periodically begin to sing.
Because Honoré has clearly taken inspiration from the French new wave, Love Songs has been widely compared to two new wave musicals, Jean-Luc Godard's deconstructionist A Woman Is a Woman and Jacques Demy's hermetic The Umbrellas of Cherbourg. The similarities are superficial, however, and the nouvelle vague is hardly the director's only inspiration. (The movie poster on the apartment wall is for Hirokazu Kore-eda's Nobody Knows.) Significantly, Alex Beaupain's music is not the sticky-sweet fluff of Michel LeGrand (who scored both the Godard and Demy films). If not fully contemporary, the songs at least mid-'80s in style. Lounge-inflected folk-rock in the mode of the Smiths, they feature something rare in French movie music: a drummer. (The worst thing about the music? The subtitled translations, which distort the language in order to produce needless English rhymes.)
The songs suit Honoré's style, which is not simply '60s-revolutionary. The writer-director takes for granted the cinematic freedoms won by Godard and his cohorts; he's more concerned with new ways to live and love. If that makes Love Songs sound like a manifesto, it's anything but. Should Ismaël ultimately return Erwann's affections, that doesn't mean he's triumphantly "come out." In this film, as in its predecessor, relationships are always in flux, and melancholy is just as much a part of romance as joy. Love, whether erotic or filial, is an experiment, with no fixed or permanent result.
As a formula for living, such perpetual reexamination sounds exhausting. But then that's one thing Love Songs does share with its new-wave precursors: It offers a young man's worldview, one that should mellow with time. Honoré may someday make his candy-colored The Umbrellas of Cherbourg. But for now, bring on the rain, the dark, the erotic disorder, and the distorted electric guitar. (2007; 95 min; at American Film Institute Silver Theater,
WHEN ENGLISH-SPEAKING FILMMAKERS produce movies set in 1930s China, it often seems that they're more attracted to the period than the place. Take, for example, THE CHILDREN OF HUANG SHI, an Australian-Chinese production. This well-intentioned melodrama features no less a historical cataclysm than the Rape of Nanking, but director Roger Spottiswoode is more interested in such old-Hollywood themes as self-sacrifice, emotional repression, postponed romance, and Anglos abroad.
Ostensibly based on a true story, although its events are forced into a sometimes unbelievably tidy script, Huang Shi turns on George Hogg (Jonathan Rhys Meyers), a naive British reporter. He arrives in China via Tokyo, where he's learned enough Japanese to ingratiate himself with Nanking's conquerors. Then George is caught with photographs of a civilian massacre, and is quickly sentenced to decapitation. Rescued at the last moment by urbane Chinese Communist Jack Chen (the ever-cool Chow Yun-Fat), George is taken to a hospital. From there, American medic Lee Pearson (Radha Mitchell) sends the Brit to Huang Shi, which turns out to be an orphanage.
In a country under brutal assault, some 20 parent-less boys might not seem a priority. But they becomes George's obsession, and soon he's bartering for agricultural supplies with local opium dealer Madame Wang (Michelle Yeoh) and teaching the kids (of all things) English. (At that moment, it would have made more sense for him to impart his knowledge of Japanese.) With the periodic assistance of burgeoning love interest Lee, George turns Huang Shi into a model impromptu orphanage. But the invaders get too close, and George and Lee — in a moment that seems better suited to Andy Rooney and Judy Garland — lead the kids on a 700-mile trek across the Silk Road to safety in a outpost bordering the Gobi desert.
Although George is a pacifist, the film doesn't pretend he can avoid the bloodbath around him. Random killings, aerial strafing, and a suicide, as well as that massacre, provide urgency and horrific verisimilitude. These qualities are frequently offset, however, by the stiff, didactic script. The power of the remarkable story, the authentic locations, and Zhao Xiaoding's fine cinematography is undercut by inert lines and contrived developments. The movie bolsters its veracity with some closing comments from a few of the orphans George led to sanctuary, but by then it's too late. The Children of Huang Shi is just too '30s in mood and style to convincingly evoke that decade's actual horrors. (2008, 114 min; at Landmark Bethesda Row)