JUNE 23, 2008
Love and Death,

Like Clockwork
The Edge of Heaven neatly arranges Turko-German lives,
while Bab'Aziz seeks desert visions
By Mark Jenkins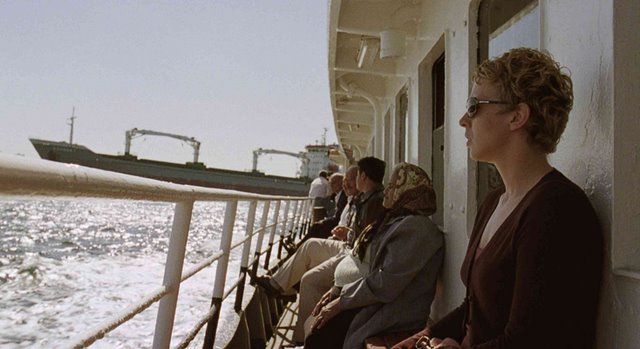 The Edge of Heaven's Ziolkowska travels to the edge of Europe. (Strand Releasing)
Also opening this week: MONGOL and BEAUTY IN TROUBLE, which I reviewed for National Public Radio's website. Clicking on the titles of those films will take you to my reviews at www.npr.org.
GOD MAY BE DEAD in Western Europe, but he has a successor: the director of the clockwork-universe drama, who manipulates characters with an Old Testament imperiousness. Fatih Akin's The Edge of Heaven explicitly acknowledges the filmmaker's god-like power by sending one of its principals, German hausfrau Susanne (Fassbinder regular Hanna Schygulla), to Istanbul in time for the annual festival commemorating Abraham's willingness to sacrifice his son to his deity. "We have that story, too," notes Susanne when she's told what the hubbub is all about.
In that story, of course, Abraham's sacrifice is cancelled. The Edge of Heaven is less merciful. By the time Susanne reaches Istanbul, Akin has already dispatched two of his pawns, tick-tock deaths that seem as capricious as they are mechanical. Such parallel gear motions threaten to overwhelm the drama, which too tidily arranges three anecdotes, three parent-child relationships, and those two demises. But the film's German title actually translates as On the Other Side, a less cosmic name that suits the tale's less contrived moments. Once its chilly grand design has been fulfilled, the movie musters some human warmth.
The "other side" is different for each of the major characters, but always involves the defining theme of the Turko-German director's previous Head On and In July: the relationship between Turks in Germany and Germans in Turkey. In the first chapter, set in Bremen and Hamburg, crusty old Turkish-born Ali (Tuncel Kurtiz) hires middle-aged Turkish-born hooker Yeter (Nursel Kose) to be his live-in concubine; the deal is observed skeptically by Ali's son Nejat (Baki Davrak), a German-born professor of German literature. The second episode, set in Istanbul and Bremen, features Yeter's daughter Ayten (Nurgul Yesilcay), an anti-government activist. She flees Turkey for Germany, where she falls in love with female college student Lotte (Patrycia Ziolkowska) and clashes with her new girlfriend's mother, Susanne. ("The other side" may refer also to sexuality, although that theme is barely developed.) When Ayten is deported back to Turkey, Lotte follows. Finally, Susanne travels to Istanbul, where she tries to help Ayten and meets Nejat, who's now living as an expatriate in the land of his ancestors.
(When talking across cultural boundaries, the Turks and the Germans most often converse in English. This allowed Strand Releasing to assemble a trailer in which most of the dialogue is unsubtitled, which may boost the film's commercial prospects in the U.S.)
Akin doesn't hide the identities of his victims; they're revealed in the titles of the first two chapters. Yet the deaths have little effect, save as plot and framing devices: We see one casket loaded on an airplane to Turkey, and later another one going the other way. It's only after this exchange that the survivors come to life. Unlike the characters at the center of the two violent episodes, Susanne and Nejat are given room to develop, and to show different aspects of their personalities. The Edge of Heaven is astutely constructed and impressively economical, but a bit glib. Too late, but satisfyingly, the mechanism begins to slow, and the movie's demiurge allows his creations to breathe on their own. (2007, 122 min; opened Friday, June 20 at Landmark E Street)
SET ENTIRELY IN A MYTHIC DESERT, Tunisian director Nacer Khmeri's BAB'AZIZ: THE PRINCE WHO CONTEMPLATED HIS SOUL is an enchanted tapestry of Sufi parables involving a blind dervish, his young granddaughter, a poet and his lost love, and a mystical gazelle. As little Ishtar leads blind Bab'Aziz to a Sufi conclave whose location can't be determined with ordinary human senses, he tells her the story of a prince who follows a gazelle into the desert, where he falls into a contemplative trance. Although its final message involves the acceptance of death, the movie is full of life, and even a few glimmers of Eros. Like most such films, Bab'Aziz attempts to simulate metaphysical revelation with beautiful images and a deliberate pace. An epiphany is not guaranteed, but susceptible viewers should find the movie mesmerizing, if not quite enlightening. (2005, 98 min; opened Friday, June 20 at Landmark E Street)